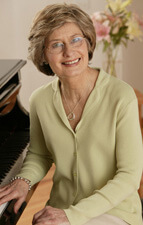 Loss is no stranger to Lorraine Doan. She survived the break-up of her 23-year marriage and family. Her financial resources were practically depleted and her future was up for grabs. She faced the prospect of losing her home to a sheriff's sale. She was in modern day language "a displaced homemaker".
All the odds were stacked against her.
Yet, she has caught the attention of thousands. Her albums have circled the globe. Since August of 1998, without the benefit of commercial advertisement or the endorsement of a major label, Lorraine has successfully placed over 94,000 copies of The Promise, Gift of Grace, Blessings, Walking by Faith, Alleluia, and Gloria in Excelsis Deo. Relying on faith, inspiration and common sense, Lorraine composed, produced and marketed her music to over 800 stores throughout North America.
With Sean McCleery, the arranger and pianist of her instrumental albums, she proved that nothing is impossible with God. Her melodies are simple, yet, soothing. Each album includes the written lyrics of her compositions.
Her albums have been featured in the following catalogs: The National Shrine of the Immaculate Conception, Charismatic Renewal Services, the Leaflet Missal Company, the Blue Army Shrine Christmas Catalog, the Catholic Biblical Association of Canada catalog, and the United Methodist Publishing House (UMPH) Inspirations catalog.
In October 2007, Wordnet Productions (an affiliate of Trinity Broadcast Network) aired her interview with Fr. Michael Manning's,SVD. weekly program, "The Power of Love".
Her music was featured by ABC TV One Archdiocese ~ Two Basilicas, (Robert Dolan, producer) for the Archdiocese of Milwaukee, Wisconsin , December 2006.
Her story was published in the Summer 2004 edition of Medjugorje Magazine. First for Women Magazine (circulation 1.5 million) featured her story in the series "Light the Way" in its March, 2005 edition.
She has been a guest on radio and cable television. Additionally, she has given presentations at Immaculata Spirituality Center, Immaculata, PA, Stella Maris Retreat Center, Skaneateles, NY, Dominican Retreat House, Elkins Park, PA, the local chapters of the American Association of University Women, the Ladies Ancient Order of Hibernians, the Catholic Women of Zion, NJ chapters 1,2,3, Magnificat Chapters in Philadelphia, PA, Lincoln, NE and Kearney, NE, the National Centre for Saint Padre Pio, Barto, PA, the Franciscan Spiritual Center, Ringwood, NJ, The Torchbearers, St. Louis, MO, St. Dominic Church, Brick, NJ, St. Andrew the Apostle Church, Gibbsboro, NJ, Our Lady of Sorrows Church, Mercerville, NJ and St. Mary Parish, Defiance, OH..
This former elementary education teacher and homemaker demonstrates to all women that personal tragedy and financial upheaval can be transformed into something of beauty and value. Her triumph comes from her firm belief in God and the courage to believe in herself.