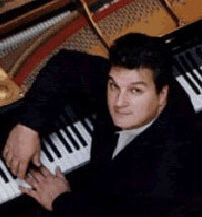 Versatility is an understatement when describing Sean's many talents. Composer, arranger, conductor, pianist… are notably at the top of the list.
Graduating from Wheaton College in 1991 with a degree in music composition, Sean opened his own audio visual production studio, Sound in Motion, now in Perkasie, Pennsylvania.
In 1997, Sean met Lorraine through a mutual friend. They formed a working relationship and completed The Promise in a mere nine months. Obviously, it was meant to be. Gift of Grace, released in November 2001, Blessings, released in March 2005, Walking by Faith and Gloria in Excelsis Deo, both released in 2008, have also received widespread acclaim.
Sean resides in Sellersville, PA with his wife and two sons. Music is a family affair. Both he and his wife, Julia, peform as a duo in the Philadelphia area. Black and white seems to be the color of choice for Sean. He holds a black belt in karate and has given instruction in the martial arts.
"His creativity can only be described in superlatives…a master of his craft, God certainly chose the best for me!" is Lorraine's response when questioned about her musical collaborator.